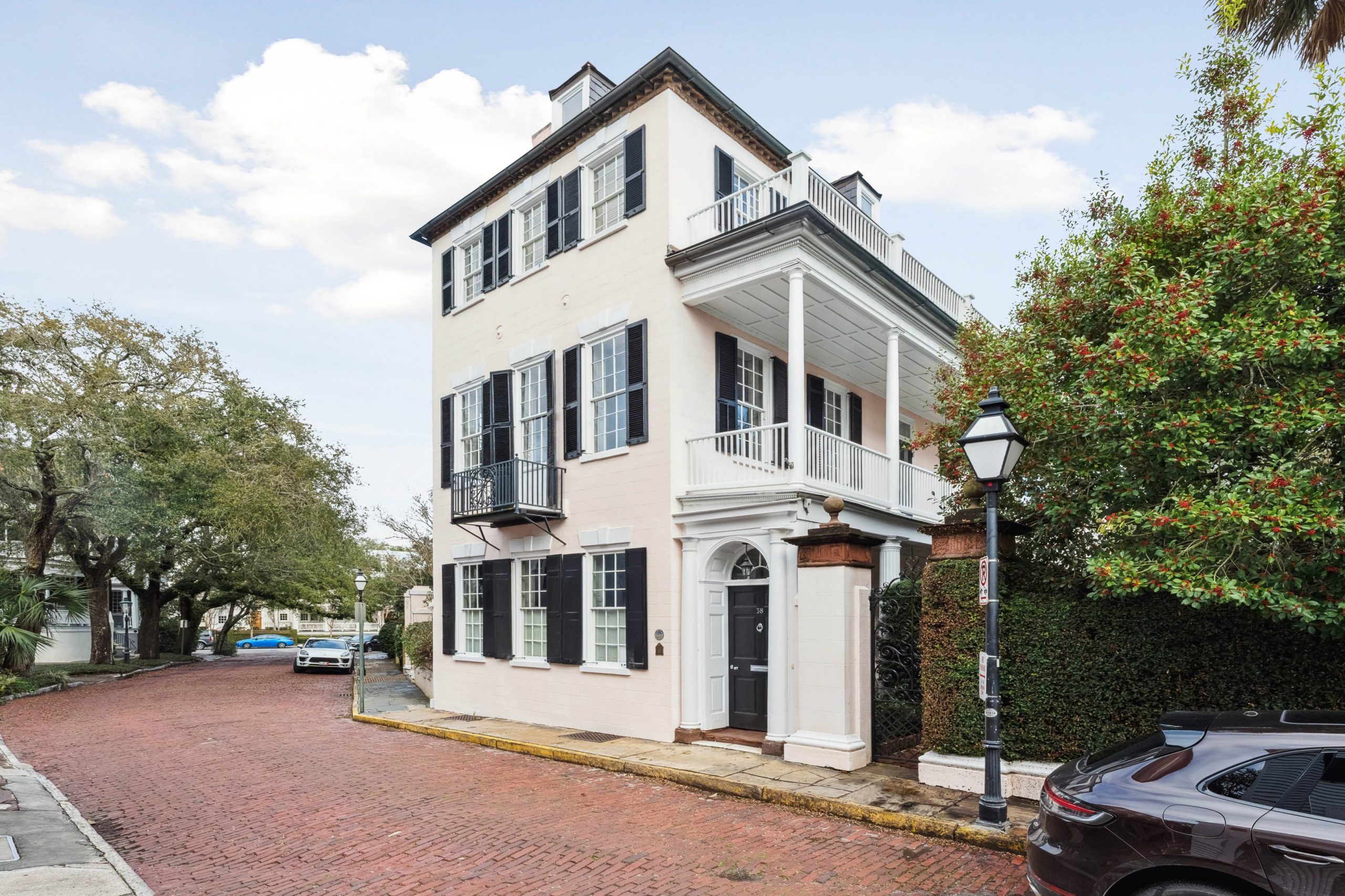 Circa 1812. Purchased after construction and renovated by Dr. Vincent LeSeigneur in 1814. Born in Normandy, LeSeigneur relocated from Santo Domingo. He was known as a caring and generous physician who practiced medicine in Charleston for over 50 years. LeSeigneur added the two adjacent lots, north and south, around 1826 to create the unique garden enjoyed today. The crenelated stair addition to the north along with the adjoining of the main house to the dependency was done around 1900 by the Hopkins family. The Hopkins/Lebby families owned the property for over 100 years.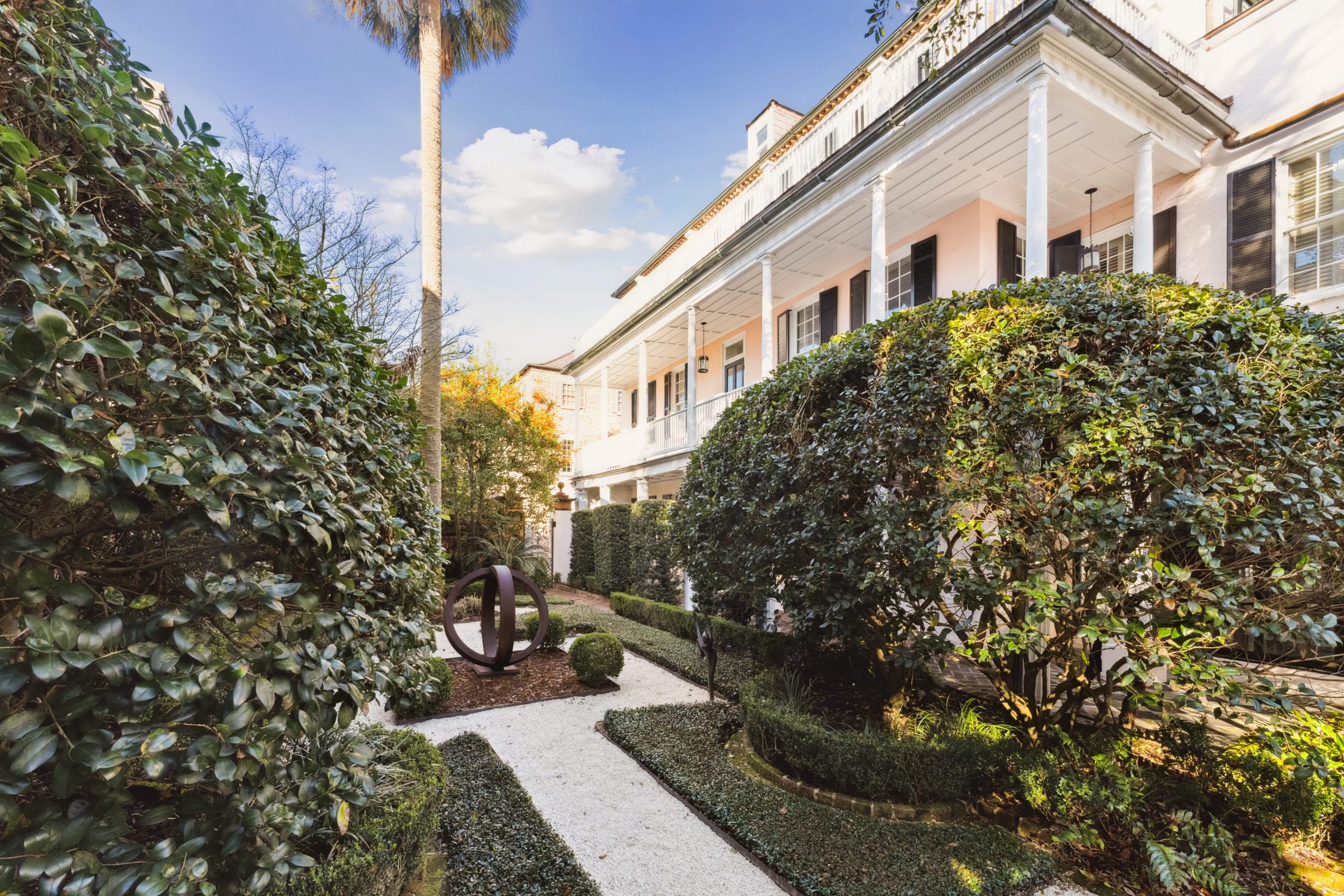 The main house is a three-and-a-half-story masonry home, handsomely finished with south-facing, double-tiered piazzas. The top level piazza is open with a balustrade; the first level features a beautiful row of nicely fluted Doric columns. More recently, this fine masonry home was meticulously restored, offering a historic and lush setting. The location is one of the best in the South of Broad area, quiet and picturesque. Sited on the historic bend of lower Church Street, the lot offers formal gardens and a private pool terrace on the south piazza side of the property. In addition, the north garden features a rare parking court with a private gate from Church Street giving additional access to the heated and cooled garage, kitchen, and pool house.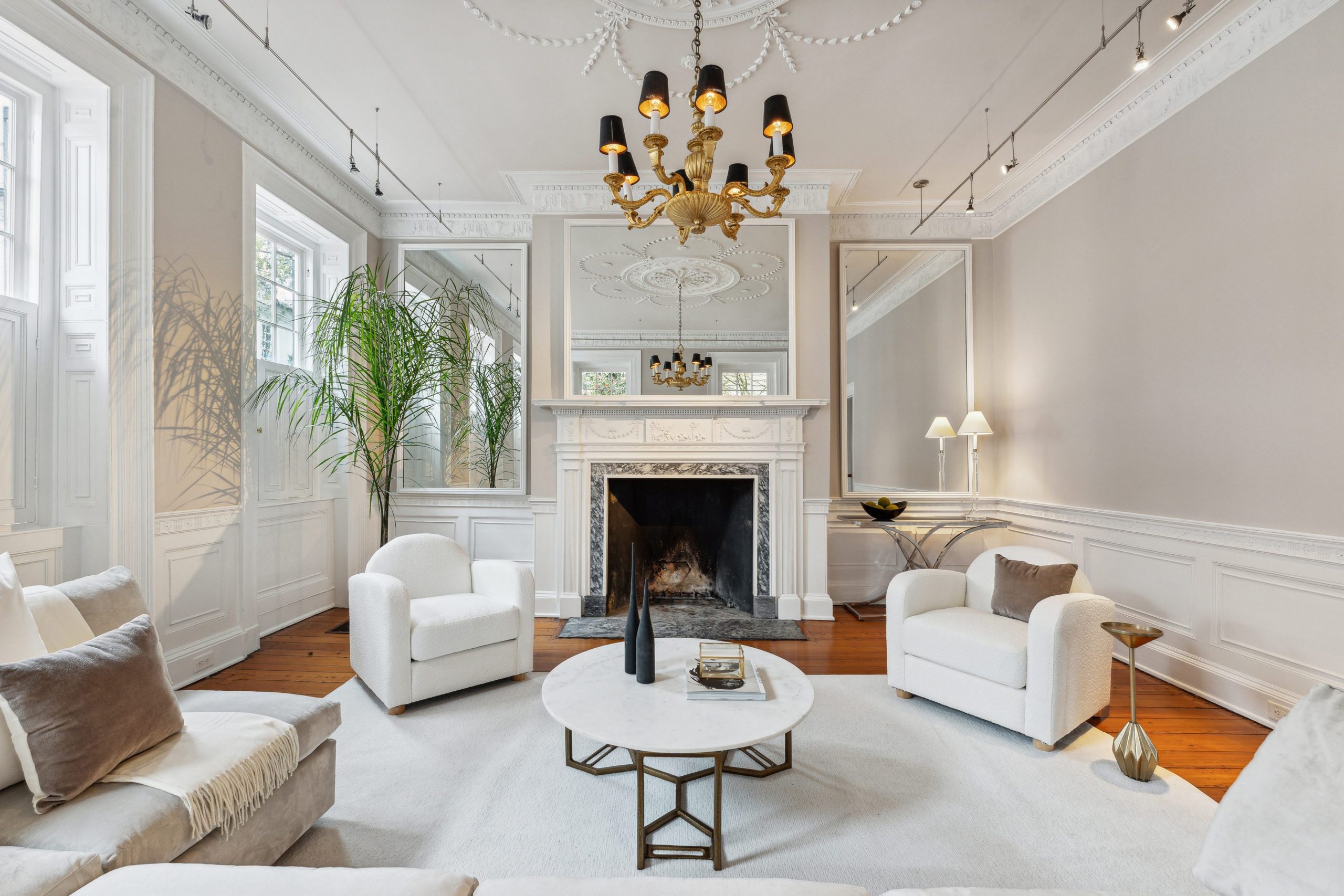 Inside the home, the interior plaster work is second to none with fine Adamesque details – handsome door surrounds, intricate carving, plaster friezes, all painstakingly restored by hand. From the windows and piazzas, this home offers eighteenth century postcard views with an abundance of light.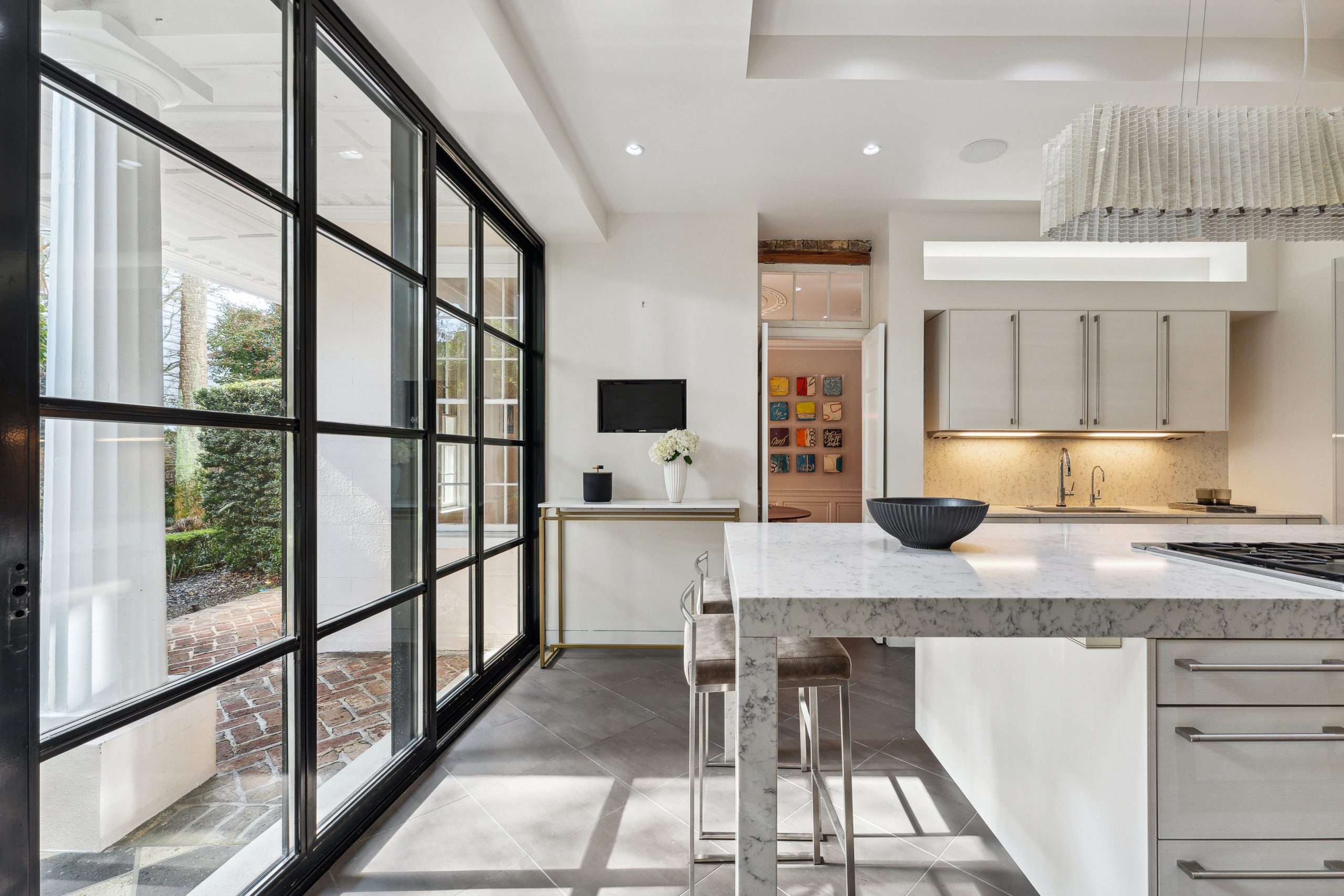 The first floor drawing room is very fine; the second floor drawing room is one of the best offered today in the historic district. The kitchen was recently redeveloped along with the addition of a glass wall allowing easier access to view and enjoy the garden. Quartz countertops, Wolf, Miele, Thermador, along with chic custom cabinetry help to create a modern and functional showpiece.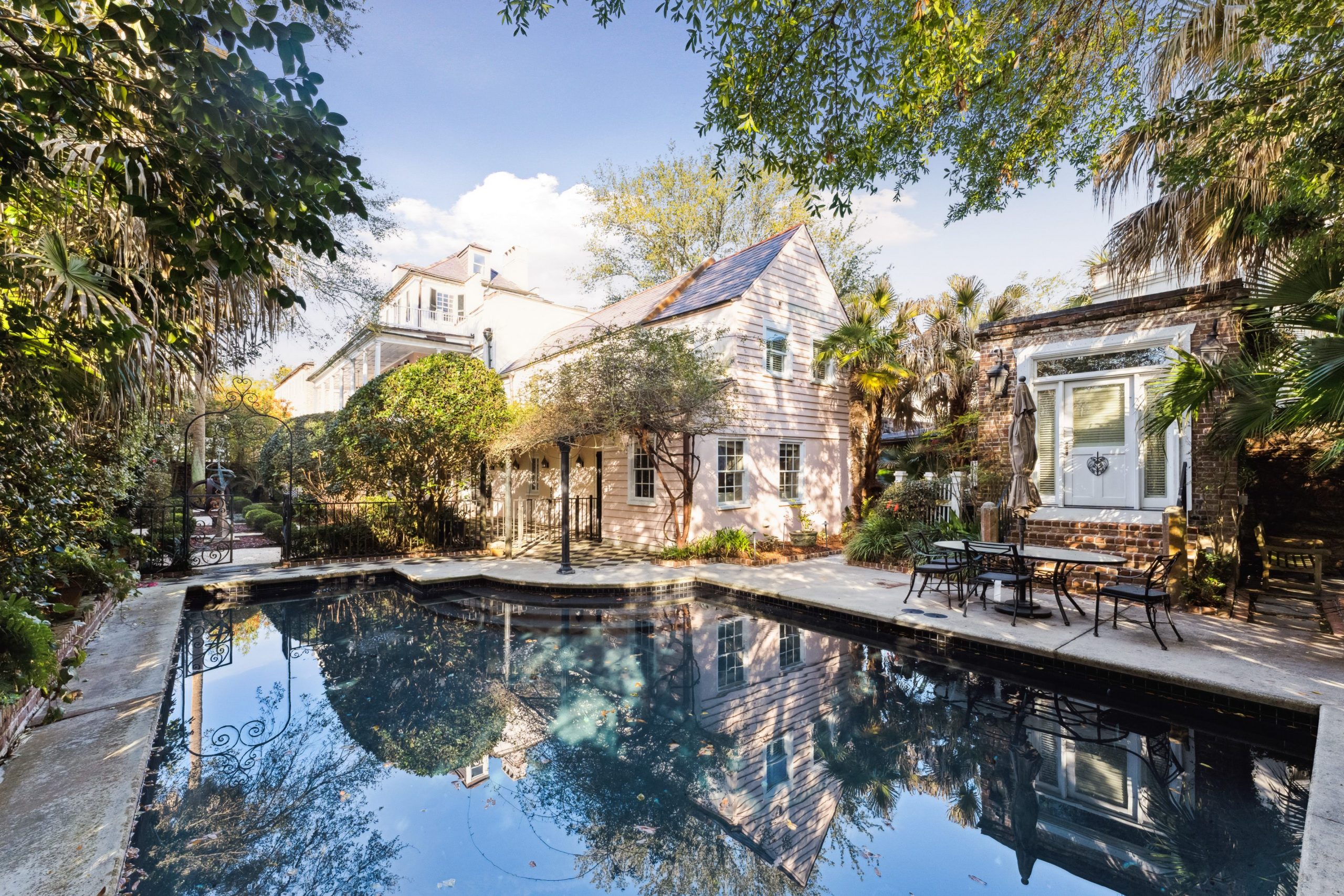 The lush pool terrace is perfect for entertaining with family and friends. There is a separate pool house that originally was one of the few remaining pigeoneers in the city. A private outdoor spa is to the rear corner of the garden. Additional features include climate controlled garage; parking for multiple cars off street; separate laundry; smart house electronics to control security, climate, lighting, and music (Sonos); gallery lighting; electric gates.
For more information, visit our website here!
All photos are the property of Carriage Properties, LLC.